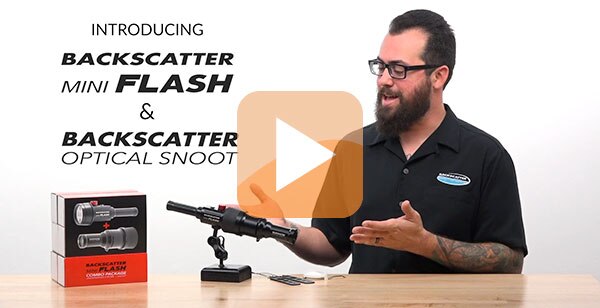 THE ULTIMATE COMPACT STROBE FOR COMPACT CAMERAS
Lightweight, compact, easy to use, easy for travel. These are the reasons why everyone wants a compact camera. With the Backscatter Mini Flash, now there is a flash to match. Small in size, but big on power, the Backscatter Mini Flash has enough juice to light most of the scenes compact cameras are used for. From macro and fish portraits to wide subjects like stingrays, turtles, and reef scenes, it's a great all-around strobe to keep your rig nice and compact, and easy to use.
Plus with the bright LED focus lights built-in and optional Optical snoot and color filters for creative lighting, this is a strobe with professional-level macro capability you'll never outgrow.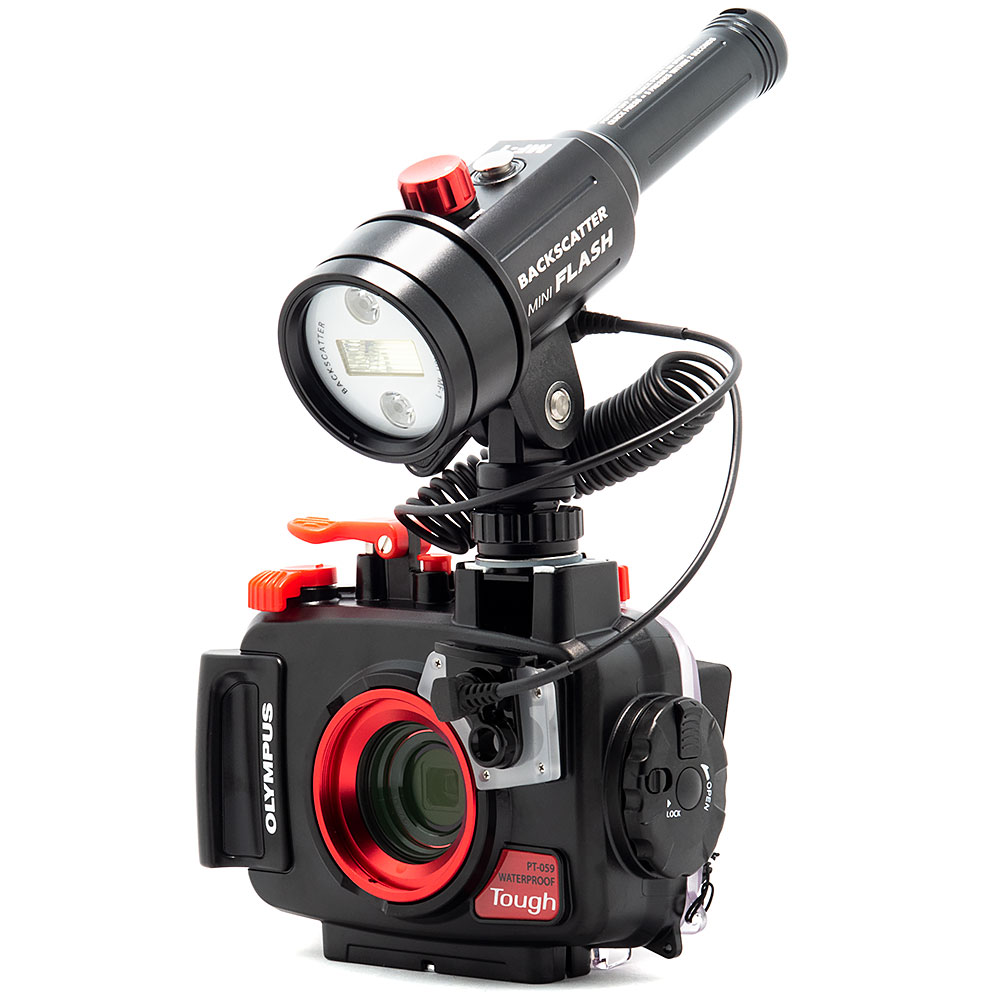 The Backscatter Mini Flash MF-1 is the perfect companion for a compact camera system like the Olympus TG-6 to keep your camera rig a compact size for travel.
A FLASH BEAM TAILOR-MADE FOR MACRO
Most of the conventional wisdom surrounding underwater strobes is that brighter and wider always equals better. If you're shooting macro underwater photography, you want the exact opposite. You want a tightly controlled light to pinpoint the subject and keep the background as dark as possible. The Backscatter Mini Flash MF-1 is the perfect light + snoot combination for any serious underwater macro photographer. Its tiny size can get into the tightest spots and the companion Optical Snoot OS-1 makes it the perfect macro strobe to give you the creativity you've been missing.
STROBE AND FOCUS LIGHT ALL IN ONE
If you've ever used a larger strobe made for wide angle, you know it can be hard to get in tight spots, especially with dual strobes and managing a separate focus light as well. The small size of the Backscatter Mini Flash MF-1 makes it easy to maneuver and get into tight spaces. With powerful LED focus lights built-in, there's no need for a separate focus light to manage on your rig. It makes a perfect companion for compact camera shooters looking for a great all-around streamlined strobe solution. It's also the perfect solution for advanced mirrorless and SLR shooters looking to reduce their footprint, simplify their lighting and lighten their rig for easier shooting.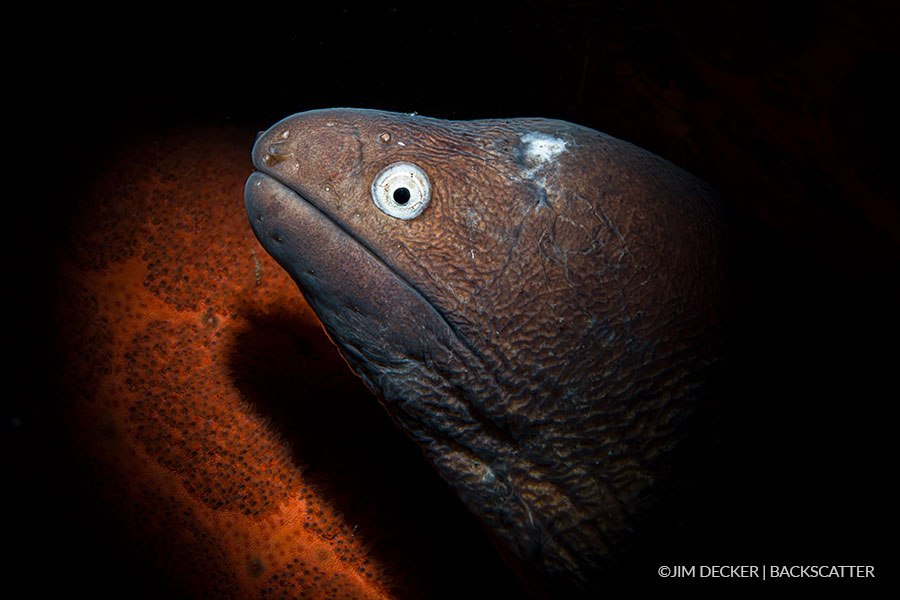 This eel was back deep in a hole. The small size of the Backscatter Mini Flash MF-1 made it easy to get into a tight spot and the Optical Snoot OS-1 focused the light only on the subject.
THE EASIEST TO USE MACRO STROBE + SNOOT COMBINATION
Using a strobe with a snoot was once really difficult. Aiming a snoot took lots of practice. We designed the Mini Flash and Optical Snoot together with the purpose of making shooting with a snoot as easy as possible. With bright LED lights that project the same beam pattern as the flash through the snoot, you can easily see the exact placement of the snoot beam on your subject when framing a shot and know you are hitting your target. Have a critter that doesn't like a constant light on all the time? Use our short duration modeling flash to check your snoot placement without continuously disturbing a light-sensitive critter.
The Optical Snoot OS-1 is easy to mount, with a simple click on/click off. The Optical Snoot OS-1 is small enough to keep in a pocket, allowing for a quick and easy switch from wide to macro.

The Backscatter Mini Flash MF-1 and Optical Snoot OS-1 were designed together from the beginning, making it the most efficient, brightest, smallest, and easiest to use professional macro strobe system.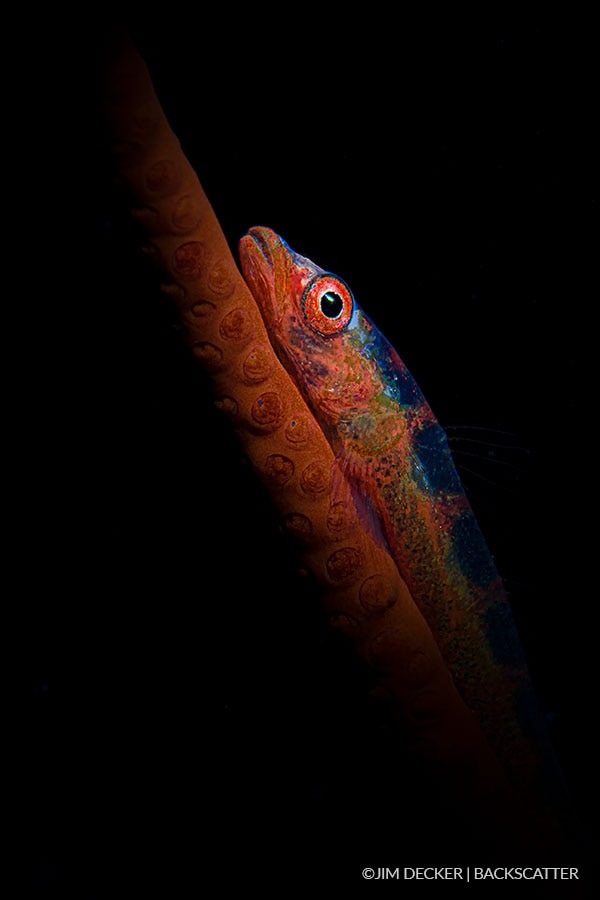 Using a snoot used to be difficult. The Backscatter Mini Flash MF-1 and Optical Snoot OS-1 make it super easy with the bright LED lights showing you exactly where the beam is pointed so you can frame the shot with ease.