FROGFISH UNDERWATER PHOTO TIPS FOR LEMBEH
by James Emery
TIPS FROM OUR BACKSCATTER AUTHORIZED PHOTO CENTER
LEMBEH RESORT, INDONESIA
My name is James Emery and I am the Backscatter Authorized Photo Pro working at Lembeh Resort in Indonesia.
Lembeh Resort is a luxurious boutique resort situated in a private cove on Lembeh Island. Within the resort you will find the Authorized Backscatter Photo Center where our Backscatter trained staff will greet you with any photo or video inquiries you might have. Inside the photo center you will find a fully stocked photography shop where myself or one of my photo assistants can help you find the perfect camera setup for your underwater adventures here at Lembeh. Our photo equipment and accessories are not only available for rent, but also to purchase. We offer customized photography and underwater video courses along with personal coaching to help you improve your techniques and capture images that accurately depict the incredible beauty that awaits you underwater here in North Sulawesi.
These are my favorite tips for capturing classic shots of these weird creatures.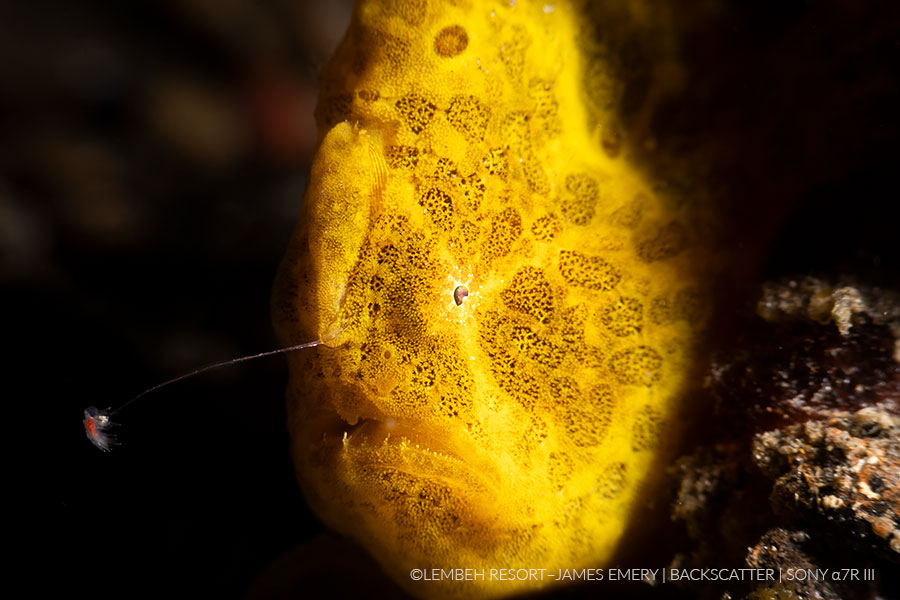 With two strobes on the same power you will illuminate the whole scene. Turning down the left strobe a couple of stops will create shadows for a more dynamic shot.
Sony a6500 | Sony 90mm | 1/160 | ISO 100 | ƒ22
Hire A Private Guide And Let Them Do The Hard Work
The hunt is certainly part of the fun when it comes to muck diving but sometimes comparing your dive with others you may find yourself coming up short in your hunt. It takes a trained eye and some background knowledge to find some of the immaculately camouflaged critters. Some would say the guides abilities to find critters is a "superpower" but behind the scenes, there is thorough training on understanding the habitats, diets, and behaviors of the critters so that the guides can make the most out of your bottom time.
Once you witness a Painted frogfish hunting or a Hairy frogfish yawning, you will not want to leave that subject without getting the shot you have been envisioning for so long. Even worse, have you ever been busy taking a photo and looking up to realize your group or buddy has left you? This is where diving in a group as a photographer can be very limiting. First, I recommend hiring a private dive guide if you want to utilize your time, patience, and focus to accomplish that shot you have been dreaming of.
Most of the private dive guides in Indonesia are accustomed to guiding photographers. As the manager of the Authorized Backscatter Photo Center, I train all the dive guides to have intensive background knowledge on how to help divers achieve their photographic visions underwater. Beneath the surface, you can expect your guide to find unique critters in photogenic positions, help with your strobe positioning, or even hold your snoot and additional accessories you may have. To guarantee a better success rate with your underwater shots, it is always best to talk to your dive guide before you get in the water and discuss with them your vision and what type of photograph you are trying to achieve.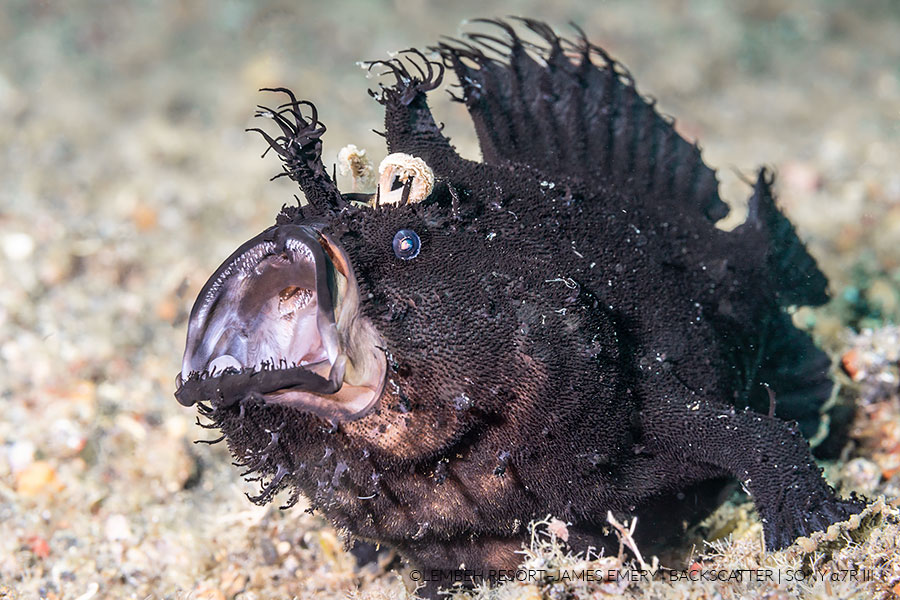 Tip: Switching the Key and Fill lights to the opposite side is a great technique to use with Hairy Frogfish as this will highlight the hair against their body.
Sony a7R III | Sony 90mm | 1/250 | ISO 200 | ƒ14
CLICK HERE TO KEEP READING