The Sony RX100 VI follows a long line of excellent cameras that has evolved over the years in the RX100 line. With the Mark VI, Sony has made a major change with an all-new 24-200mm lens, making this the most versatile RX100 camera to date. This is the biggest game changer and has both pluses and minuses. Read on to see how awesome this new lens is, albeit with a few caveats.
All New 24-200 Lens
The new 24-200mm lens from Sony is very impressive for its topside use. Previous models sported a 24-70mm lens which was a bit limiting in reach for many topside applications and limited how tight the camera could shoot macro subjects. Having a 200mm lens camera that can fit in your pocket is pretty darn incredible. With the capability of up to 200mm, working distance is now further away, like an SLR, and helps to avoid spooking skittish critters.
Finally, Super Macro Capability with an RX camera
One of the shortfalls of previous models of the Sony RX100 VI was the lack of close focus for macro, and the relatively short focal length of the zoom lens at 70mm, which limited how tight of a macro shot one could get. Now with the new 200mm lens, super tight shots are now possible when adding on an accessory macro lens.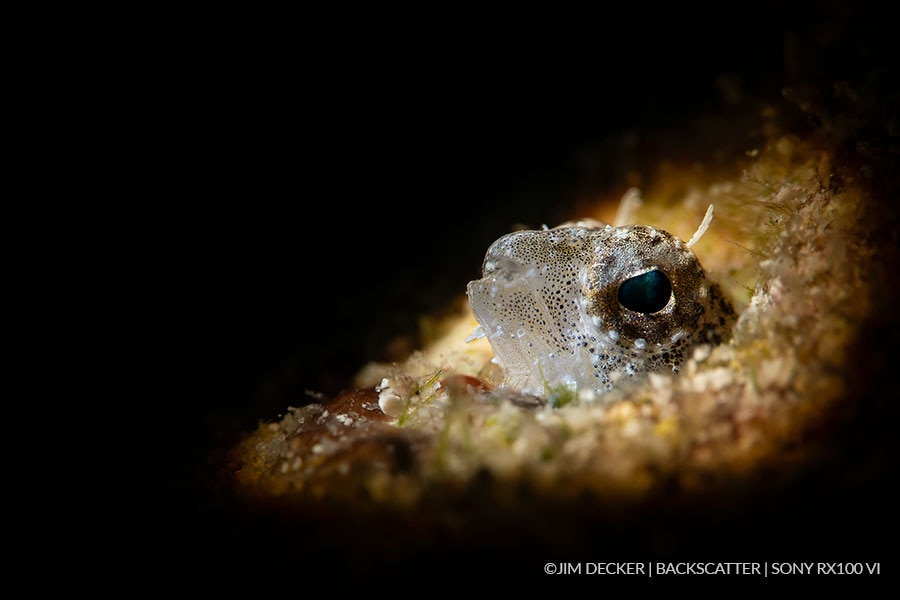 This image was shot at full zoom of 200mm with a Nauticam SMC-1 lens. This image is uncropped from the camera. The depth of field is SLR-like thin, and the Sony RX100 VI is capable of delivering super tight macro shots, unlike any previous RX100 series camera. To focus this shot, I moved the camera until I saw the focus peaking indicate a sharp focus on the eye. 1/500, ƒ11, ISO 100

Click Here to read our full review for the Sony RX100 VI.