---
---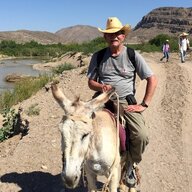 Gender:

Male

Birthday:

August 22

Occupation:

Like I would put that on a public, online statemen
DandyDon
Old men ought to be explorers, Male, from One kilometer high on the Texas High Plains
ScubaBoard Supporter
My newest hobby is tombstones. I've made a few, getting better. Feb 20, 2016
DandyDon was last seen:

Jun 20, 2018 at 5:48 PM
Loading...

Loading...

About

Gender:

Male

Birthday:

August 22

Occupation:

Like I would put that on a public, online statemen

Gender:

Male

eBay User Name:

Guess?

Certification Agencies:

Padi, SSI, TDI

Dive History:

Florida Keys,
Bahamas,
Cozumel & Cenotes near Tulum,
North Carolina WWII Wrecks,
St.Lawrence River Wrecks,
Calf Channel Islands,
Belize - including The Hole,
Roatan & Utilla,
Puget Sound & San Juans near Seattle;
Texas Flower Gardens;
Exuma and nearby islands, Bahamas;
Leewards Islands in Caribbean where I started on a 100 ft Resort Dive;
and Snorkel racing with Holbox Whale Sharks...!
Certified 12 years now, 458 dives logged, almost all ocean diving. Deepest dive - my Oops to 182 feet.

Certification History:

Padi Rescue & Nitrox, SSI Scientific Aquarena, TDI Decompression Procedures

Certification Level:

Rescue and Decompression

# of Logged Dives:

200 - 499

Dive Classification:

Just An "Average" Diver

Years Certified:

Ten Or More Years

Dive Equipment:

19 cf pony slung for any dive planned or possible to below 50 ft,
2 Oceanic computers one every dive, Safety sausage, Storm whistle, Dive Alert whistle, signal mirror, shears, beanie & gloves in pocket if not on, lights in pockets with snorkel & spare Bifocal mask, primary Bifocal mask on forehead while on boat, snorkel vest on while riding to the dive site

Diving Rebreathers Since:

Haha nope

I was born at a very young age, raised on a dirt & cow farm long before safety rules, survived many accidents, mistakes, dumb choices, and my extended midlife crises decades much healthier than I deserve.

Very single, probably unfit for marriage. I've rolled vehicles with and without seat belts and strongly recommend them, as well as wearing flotation vests on small moving boats. I may be the only one you'll see wearing a vest on a dive boat; it's okay - laugh.

Yeah, Carbon Monoxide is a pet issue with me, in tanks, homes, vehicles, hotels, etc. Hell, it's only the air we breath, totally undetectable without special electronics, and a more complicated risk at depth. I wish that Operators cared, but since most don't - I test all tanks.

Interact

Signature

You can test the tanks you breathe or - dive on hope.
Testing is safer...

Yeah it's just the air we breath - at depth!
​

Loading...