---
---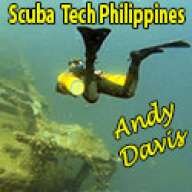 Gender:

Male

Birthday:

February 24

Home Page:

Location:

Occupation:

Sidemount Technical Wreck Instructor
Loading...

Loading...

About

Gender:

Male

Birthday:

February 24

Home Page:

Location:

Occupation:

Sidemount Technical Wreck Instructor

Gender:

Male

Blog / MySpace URL:

http://scubatechphilippines.com/scuba_blog

Certification Agencies:

PADI, BSAC, DSAT, TDI, ANDI, SSI, IART

Dive History:

To date I have dived in: England, Scotland, Cyprus, Greece, Spain, Egypt, Israel, Oman, Ascension Island (mid-Atlantic), Belize, Maldives, Thailand, Vietnam, Malaysia and Philippines.

I have completed 4600 dives (conservative estimate), of which approx 450 were accelerated decompression dives and 120 were technical/sidemount.

Favorite Dives:
James Egan Layne, UK (wreck)
Tino's Paradise, Mabul (muck)
Barracuda Point, Sipidan (wall/reef)
Blue Hole, Belize (wall/reef)
Chumporn Pinnacle, Thailand (reef)
Zenobia, Cyprus (wreck)
USS New York, Philippines (wreck)
Big Boy, Thailand (unnamed Japanese war wreck)

Certification History:

PADI Master Scuba Diver Trainer (29 specialities)
PADI Sidemount / Tec Sidemount Instructor
TecRec Discover Tec / Tec40 / Tec45 / Tec50 / Tec65 / Tec Trimix / Trimix Blender Instructor
ANDI SafeAir / Sidemount / Advanced Sidemount / Technical Wreck /Technical Trimix Instructor
BSAC National Qualified Instructor (OWI)
Emergency First Response Instructor
SSI Advanced Open Water Instructor

ANDI Advanced Sidemount & Technical Trimix

IART JJ-CCR Mod #1

RAID Deco50 Instructor

My most memorable courses taken:

ANDI Advanced Sidemount / Technical Wreck w/Bruce Konefe
TDI Adv Nitrox/Doubles w/Mark Powell
TecRec Tech Deep w/Jamie McCloud

Certification Level:

Adv Sidemount / Full Trimix / Technical Wreck Instructor

# of Logged Dives:

5,000 - ∞

Dive Classification:

Technical Diver

Years Certified:

Ten Or More Years

Dive Equipment:

SIDEMOUNT:
Razor Sidemount Rig
Deco Sidemount Rig
Aquamundo Sidemount Rig
SubLevel Tec Sidemount Rig
DIY 'Frankenstein' Sidemount w/ Hogarthian Harness, OMS Profile & Custom Divers TDB 60lb Wing for multi-cylinder/deep tech dives.
2x Scubapro Mk25 1st Stages & S600 2nd Stages

SINGLES:
Oxycheq Mach V 18lb on Halcyon BP, with hog harness
Scubapro S600T + Mk25T
Force Fins Pro
Suunto D9 & Vyper

DOUBLES/TWINS:
Halcyon Evolve 40lb + XDeep NX Project Wings
2x Apeks FST
Apeks Quantum (Gauge Mode)
Suunto Vyper (Gauge Mode)
JMD Umbilical Xenon can torch


REBREATHER:
1x Drager Dolphin SCR
1x Drager Dolphin (being converted to mCCR K.I.S.S. with custom housing etc)

JJ CCR MOD1 Trained, but don't own a unit currently

Rebreather Type:

JJ CCR

Rebreather Experience:

Diving Rebreathers Since:

2013

I am English, but spent time growing up in West Africa and the USA, before returning to the UK to complete university studies in Politics & History. After university, I was commissioned as an officer in the Royal Air Force, completing tours in Iraq and Afghanistan, as well as service in Cyprus, Qatar, Oman, Belize and Germany. My final 2 years of service were spend commanding a specialist Civil Affairs (CIMIC) team.

I learnt to dive during my college studies, gaining qualifications with PADI and BSAC. I progressed my diving experience during my military service, eventually becoming a BSAC instructor and PADI Divemaster, along with RYA Powerboat 2 (ICC).

When I left the military, I completed the PADI IDC and SSI Instructor cross-over and moved to Thailand, where I worked in several dive centers, eventually becoming manager of a PADI/SSI center on Koh Tao.

During my time in the Gulf of Thailand, I persued my interest in technical diving. I originally began my tech training back in the UK, under Mark Powell with TDI.... but switched to the DSAT system to complete the tech instructor courses aboard the MV Trident, diving virgin war wrecks in the 50-75m range.

After several years in Thailand, I took up an offer of an instructor position in Borneo, where I dived around the Sipidan/Kapalai/Mabul area daily for a season

Having completed my contract in Malaysia, I moved to the Philippines, where I have worked as a specialist, independent sidemount and technical diving instructor since 2008.

I write a popular diving blog (

Technical Diving Articles | Techniques | Knowledgebase

) and have published numerous diving, tourism and dive medicine articles in magazines. I am assist several diving equipment manufacturers with product development and am writing a series of diving books.

My diving interests are:

Deep/Virgin wreck exploration.

Macro Photography

Nudibranch Identification and Surveys

Dive Medicine

http://

scubatechphilippines.com

Quals:

AUTHORIZED TO TEACH - PADI SPECIALTIES

Sidemount Diver, Tec Sidemount Diver, Discover Tec, Tec 40, Tec 45, Tec 50, Tec 65, Tec Trimix, Technical Wreck, Peak Performance Buoyancy, Project Aware, Deep Diver, Coral Reef Conservation, Wreck, Equipment Specialist, Dive Propulsion Vehicle, Enriched Air Diver, Night Diver, Underwater Videographer, Dry Suit, Underwater Navigator, Digital Underwater Photography, Drift, Multilevel Diver, Search & Recovery, Boat, SMB Diver (Distinctive), DSAT Nitrox/Trimix Blender,

AUTHORISED TO TEACH - ANDI

Safe Air Level 2

Sidemount

Advanced Sidemount

Technical Wreck

AUTHORISED TO TEACH - SSI SPECIALITIES

Boat, Deep, Navigation, Waves, Tides & Currents, Wreck, Perfect Buoyancy, DPV, Search & Recovery, Stress & Rescue, Equipment, Computer, Night / Limited Visibility, Dry Suit, Photography, Enriched Air Nitrox

Emergency First Response Instructor, including Care for Children w/AED

BSAC Nationally Qualified Instructor OWSI

International Certificate of Competance: Small Vessels

RYA Level 2 Powerboat & Competant Crew

BSAC Boat Handler

BSAC O2 Administrator

BSAC Lifesaver

British Association of Fitness Instructors:

Diploma in Exercise Performance

Diploma in Fitness Teaching Skills

Qualified Fitness Instructor Certificate

UK Enhanced Criminal Records Bureau (CRB) clearance.

Interact

Signature

Andy Davis

Sidemount-Technical-Wreck Courses and Clinics
PADI TecRec, RAID, ANDI, BSAC and SSI - Technical Diving Instructor

`

Scuba Tech Philippines Blog Articles and News

​

Loading...

Loading...