---
---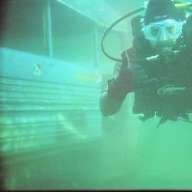 Home Page:

Location:

Occupation:

Sell Auto Parts, Fix Stuff
Loading...

Loading...

About

Home Page:

Location:

Occupation:

Sell Auto Parts, Fix Stuff

Gender:

Male

eBay User Name:

kf4ipc

Blog / MySpace URL:

www.myspace.com/kf4ipc

Certification Agencies:

Lynnhaven Dive Center

Dive History:

So far I have been to Lake Rawlings where I got Certified.

Certification Level:

SSI OWD

# of Logged Dives:

0 - 24

Dive Classification:

New To Diving

Years Certified:

Two Years

Dive Equipment:

Aqua Lung Balance W/ AirSource,
Aqua Lung TiTan Regulator,
UWATEC 3 Gauge 2 Sided Console,
Cressi-Sub Archimedes II Computer,
Luxfer AL80 tank and a few other things not worth listing

Rebreather Experience:

I live on the Eastern Shore Of Virginia and I love riding my Harley, pissing off the neighbors and scaring people, burning rubber from the stoplights on my Sporty... I like to watch the lightning dance across the sky on a hot summer night and listening to rain drops fall on tin roofs. I enjoy Getting my body decorated with Tattoos and Piercings and have been called a freak on a few occasions. I am a member of The Flat Land Search & Rescue Team here on the Shore. I like messing with my Amateur (Ham) Radios, Computers, Electronics, Climbing Towers, Ghost Hunting, Paranormal Phenomena and Scuba Diving.

Interact

Content:

Yahoo! Messenger:

flsar69

Signature

And they say crack is addictive!! :mooner:

Loading...