---
---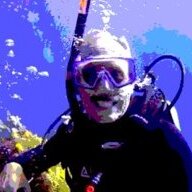 Gender:

Male

Occupation:

Retired, but for how long?
Loading...

Loading...

About

Gender:

Male

Occupation:

Retired, but for how long?

Gender:

Male

Certification Agencies:

NAUI

Dive History:

I really like Reef Point in SoCal. I got to know and photograph lots of critters down there. I also like diving around Catalina. Within the past four years or so I've been to Maui, Molokini, Kona, Cozumel, Costa Rica, Puerto Vallarta, and Playa del Carmen.

Certification History:

NAUI 1969. Went through it again in 1983 with my X. After some questionable looks at my C-Card I wrote to NAUI and they sent me one with updated terminology. "Scuba Diver" was not real impressive. At this time I have been certified for 48 years.

Certification Level:

NAUI Master Scuba Diver

# of Logged Dives:

2,500 - 4,999

Dive Classification:

Experienced Diver

Years Certified:

Ten Or More Years

Dive Equipment:

Mostly old stuff. I guess I'm a "Vintage" diver by default. No doublehose regs though (yet). I made several camera housings including 8mm movies and 35mm SLR with external strobe. Got some pretty good pics.

Hi. I've been Scuba certified since 1969. Most of my diving has been in Southern California but since I got divorced I have been to Maui, Molokini, Cozumel, Puerto Vallarta, Playa del Carmen, Kona, Minnesota, and Costa Rica. My near-future plans include Cancun, Belize. My not-too-distant plans include Puerto Rico, Los Cabos, Cozumel again, whichever Caribbean islands I find myself on, Samoa, and possibly Bali. My girlfriend wants to visit Italy so I looked it up and sure 'nuf they have diving there so I'm all in! Who knows; I may end up in some tropical paradise and simply decide to stay there.

Interact

Signature

Love and hate are two horns on the same goat.

Loading...