---
---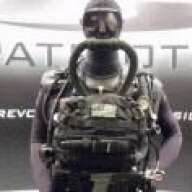 Rapid Diver
Angel Fish, from Orlando
Rapid Diver was last seen:

Apr 29, 2018
Loading...

Loading...

About

Home Page:

Location:

Gender:

Not specified

eBay User Name:

aquaturis

Certification Agencies:

NAUI, PADI

# of Logged Dives:

I'm a Fish!

Dive Classification:

Experienced Diver

Years Certified:

Ten Or More Years

Rebreather Experience:

Christopher DeFelice has been a diver since age 12, one of the first to be certified Advanced Scuba (now considered Master Diver) at age 16. His first experience in the dive industry was in a dive store near his home town in Massachusetts where he gained his underwater skills and developed a deep appreciation with the diving industry "I knew then that I wanted to do something big in the diving, I grew up watching the Cousteau specials, it seemed anything was possible underwater". The love of the water and a spirit of adventure led Christopher to an exciting career in the US Navy. "It's hard to believe that since the bombing in Beirut in 1983 we are still on the frontline of terrorism". " I feel proud of my contribution and am as equally excited to be developing the next generation of dive equipment for the Military."The Naval experience fed Christopher's enthusiasm for big technology.


"It surreal to be 18 years old and at the helm of a state of the art Fast Frigate. My best friend on board got to fire missiles, it doesn't get any better then that. There is no other career path that you get that kind of responsibility at that young of an age." The exciting life of international travel and close combat led to a dilemma in Christopher's career. "How do you top that? I was inspired by the travel and the technology." "There was only one direction to go. The entertainment industry!"Orlando Florida is where Christopher found himself. "The high profile attractions and all the possibilities, it seemed like anything was possible there. And there was diving nearby, a big change from western Massachusetts" Christopher soon found his nitch working on special projects that utilized his passion for diving and technology.

The first major project that I worked on was to help create, train and race a human powered submarine for Disney. It didn't end there. This particular project was a springboard to other subsea opportunities. "As soon as we completed the Disney Sub project I got a call from Universal Studios about a TV Show call SEA QUEST DSV." This officially launched Christopher in the sub business and into film and TV. "This is a time when I knew I was on the right track, I combined all of my interests and talents into a micro-niche area of the subsea entertainment industry.."
This led to a host of opportunities with film and TV. "It became apparent that I could do more then just supply a piece of equipment. Christopher found himself taking on projects with MTV, The Discovery Channel, National Geographic, and the BBC. "Some of the more interesting projects were filming dolphins in 3D for Sony, working with the second unit team on a James Bond film and traveling the globe with the underwater expedition team "Team Atlantis".
The Team Atlantis experience put all of Christopher's skills to work. As a team member, Chris traveled to the small island of Yonaguni, Japan to film an underwater structure of unknown origin. "The structure was amazing, I have never seen anything like it, a real mystery to be solved."During the Japan expedition the team experienced some real challenges. "A Japanese patrol boat mistook the fishing boat we had hired for transport as a drug runner and tried to sink us in the East China Sea. After they realized we were not pirates or smugglers they escorted us to the island."
The age of terrorism effected everything and Christopher found himself with a new direction. "After 911 things changed, I knew I had to change too."
"It is a different world we live in, but I didn't want the events to change my outlook."
Time to adjust to the times and take advantage of the new opportunities."I learned that a lot of the new ideas and concepts adopted by the military come from the civilian marketplace. I used my military experience to hone some of my equipment designs. Tactical mobility is a key concept regarding equipment design for todays armed forces - well built equipment that is rapidly deployable and has endless configuration possibilities." "My latest project,the RAPID DIVER compact scuba system, fits this profile combining hyper mobilty and stealth in a compact completely configurable package. I am proud of my acheivement and look forward to even bigger projects in the future.

Interact

Signature

Loading...