---
---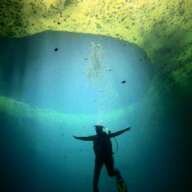 Last Activity:

Dec 27, 2013
Joined:

Jan 16, 2013
Messages:

8
Likes Received:

1
Trophy Points:
Home Page:

Location:

Occupation:

waitress
Loading...

Loading...

About

Home Page:

Location:

Occupation:

waitress

Gender:

Not specified

Blog / MySpace URL:

http://www.in2books.blogspot.com/?m=1

Certification Agencies:

SDI, NAUI, NACD

Dive History:

Alexander Springs, Altoona FL

Blue Grotto, Williston FL

Devil's Den Springs, Williston FL

Flower Gardens, West Palm Beach FL

Mizpah, West Palm Beach FL

Rainbow River, Dunnellon FL

Troy Spring, Branford FL

Devil's Den Springs, Williston FL

Manatee Springs, Chiefland, FL

Ginnie Springs, High Springs, FL

Paradise Springs, Ocala, FL

Certification History:

Enriched Air/Nitrox (NAUI) - 8/28/2011

Advanced Open Water (NAUI) - 7/10/2011

Open Water Diver (SDI) - 6/20/2011

Cavern (NACD) - 6/13/2013

Certification Level:

Enriched Air/Nitrox (NAUI) - 8/28/2011

# of Logged Dives:

50 - 99

Dive Classification:

Experienced Diver

Years Certified:

Two Years

Dive Equipment:

Scuba Pro, Henderson, Oceanic

Rebreather Experience:

Hi Y'all,

Before you go any further, let it be known that I feel there is a need for greater emphasis on selecting, or going with, a dive buddy. Remember, your air is on their back!!! Therefore, my "profile dialog" is what some consider lengthy.

I think that "lengthy" is required if one wants to find their "best dive buddy ever", and have a most enjoyable day of diving.

That said, welcome to my "hopes, desires, and expectations"! Following, is "who" I am:

I'm an advanced open water, Nitrox, and cavern certified diver, with less than 100 dives.

In the near future, I'll continue the "overhead" classes started with instructor, Lloyd Bailey, of Lloyd Bailey Scuba, in Gainesville, FL, as we explore "Intro to Cave."

I also love underwater photography.

For those new to this site, diving and underwater photography, I came upon a good read when I first joined, that is also worth your time. Skip Straus summed up "a beginner's ventures" quite nicely in his article, "Underwater Photography - Selecting Your First Camera," found at http://www.divebuddy.com/blog.aspx?BlogID=10351&Category=99.

As the Skipster stated, buoyancy is a key issue for all divers, let alone one trying to capture a fantastic underwater images without stirring up the bottom. Combine that with learning a new camera, in a new environment, totally opposite of our "gravity bound" existence, while trying to curb one's desire to shoot everything they see, and you will have a better picture of all the elements that need to come together to capture that "perfect image".

Plus, when choosing a dive buddy, do make sure that you agree to dive with those sharing your interests, who are equally developed in their abilities. Do not agree to dive with junior or novice divers who may kick up the bottom or randomly call a dive, if you are hoping to photograph your dive. Otherwise, you will be greatly disappointed.

Check out this video with me as the underwater diver, at Devil's Den during Feb. 2013. Shah, my dive buddy from Malaysia, created it. What a fantastic job he did. http://www.youtube.com/watch?v=9tKLAJfFzxA

Backing up a bit, most of my life I've lived on a coastline. From Cape Hatteras, NC, to Isle of Palms, SC, to northern and southern California, to Hawaii, to Florida, swimming, surfing, and snorkeling have always been a part of my life.

I enrolled in my first scuba diving class when I was 15 in SC. Unfortunately, we didn't have transportation to our check-out dive in FL, so my sister and I never got certified.

Despite living in Hawaii, I still never took up the tanks, which looking back on now, I can't understand.

It wasn't until a few years ago, 2011, when I was starting up a photography business, that I was asked if I'd be interested in an underwater wedding. With that, I didn't hesitate a moment, and immediately enrolled in a diving program and purchased my first SeaLife dc1200 for underwater photography, though I'm now using the dc1400.

As I considered the investment into owning all my own gear due to having extensive prior injuries from my days as a professional thoroughbred jockey, I was assured by my instructor that there'd be plenty of divers in the class looking for buddies, and that I would get to use my gear.

Well, despite living in the Spring/Cavern/Cave capital of the world, this information turned out to be false. They had no active buddy list, nor was there any active feedback to connect students to other groups of divers from other dive shops.

I did find one shop, the now defunct, Aquatic Center (http://www.aquaticcenter.com/), in Gainesville, FL, that had a Buddy list. I added myself to that list of around 18, and since 2011, I have had 2 travelers contact me for weekday dives. With my most recent connection being Shah, from Malaysia, I began my search for "Buddy Lists" again, and came upon DiveBuddy.com.

What a blessing. This is a "full service, one stop shop" community. I love it and thank Greg for creating this global network, along with Scuba Earth, which has connected me to a multitude of dive buddies, who I hook up with regularly. Additionally, DiveBuddy.com linked me to ScubaBoard, whereby another local diver (Instructor Bill Rivers), also now on DiveBuddy, found me, and we too have become dive buddies. Bottomline is that Greg created a site that has reopened a door for me, that appeared to be closed, to a world that is beyond magnificent. Thank you Greg.

Dive History:
Certified through Bill Foote of Ocala Dive, LLC. & Lloyd Bailey of Lloyd Bailey Scuba, in Gainesville, FL.
Have dived:
Rainbow River's KP Hole (drift dive), Alexander Springs, Troy Springs, Blue Grotto, Devil's Den, Manatee Springs, Catfish Hotel, Ginnie Springs, Devil's Eye/Devil's Ear, Fanning Springs, Paradise Springs, and West Palm.

The West Palm dives consisted of 6 dives, which included night diving and shipwreck diving, and using Nitrox. Deepest dive thus far has been 100 ft.
Favorite local dive: Without a doubt, it has to be Catfish Hotel, located at Manatee Springs, and Devil's Ear, located at Ginnie Springs. They are absolutely surreal due to organic matter creating phenomenal colors as a result of the tannins in the water.

Devil's Den and Blue Grotto are tremendously fun dives with unique photographic opportunity, and like them, Paradise Springs in Ocala, has turned into one of my new favorites too.

Of course, depending on the lighting and water levels, the views inside of Devil's Den are magnificent. Good place for underwater video as well. Easy to do a two tank dive there.
http://www.flickr.com/photos/santafesandy/8742226805/in/photostream,
http://www.flickr.com/photos/santafesandy/8743345966/in/photostream/

I also liked the upper portions of the Rainbow River, and Alexander Springs.
Favorite Dive (ever): The reef called Mizpah and Flower Gardens on West Palm coast.
Type of diving desired: Early morning, daylight diving in order to capture the light rays and get good photographs before bottoms get stirred up, fish depart, and visibility reduced.

I'm also interested in rescue, and "environmental" diving, and learning more as to how to reverse the harmful effects we humans have had on all waterways and marine life.
Qualities in a dive partner: I'd like to link with another photographer, or a diver not in a hurry to complete a dive, so as to allow me the time required to capture good underwater shots, and to simply sit still on the bottom and enjoy being a fish. I'd like to connect with non-smokers. While smoking is your choice, I'm extremely allergic to cigarette smoke, and smelling it causes me migraines. Plus, I do love my lungs and don't wish to do bodily harm to myself as I explore God's waterways.

I'm available to dive weekdays, as I typically work all weekends, unless arranged well in advance.
Additional Information: I'm 5 foot, an ex-jockey, an animal welfare advocate, vegetarian/vegan who eats predominantly organic, non-GMO and non-dairy foods. I'm full of energy, joy-filled, and love Jesus. While I enjoy going out for a bite to eat after a dive, with the group, I really have no interest in going to burger joints or bars, which is why I'd prefer to pack a lunch, and be with divers cut from the same cloth. No offense, just my personal taste, so to speak.

In addressing "tastes", I'm also an Arbonne International, Independent Consultant, who firmly believes in reducing our human footprint on this earth by every means possible. If you are interested in learning more about this wonderful company that produces Swiss formulated, "Made in America" botanicals for health, wellness, and nutrition, then please contact me,

For those not familiar with what FL has to offer, here is a link to various FL springs: http://www.floridasprings.org/visit/map/

As a former NM resident, I eagerly await the time when I'll move back to the wonderful southwest. At that point, I will be sure to dive the Blue Hole. http://www.youtube.com/watch?v=7HALOmWikWs
Therefore, altitude certification is also on my diving, educational agenda.
In conclusion, I have all my gear, tanks are filled, and I'm ready to roll. I'm attentive to details, have a background in healthcare, CPR/First Aid trained, retain a DAN membership, don't take any drugs, fearless but intelligent, and game for exploration.
Being a photographer, I'd like to link with other divers who appreciate exploring our God-given water world, but who do not feel inclined to hunt, harass, harm it (meaning buoyancy control and watch what your body and fins hit), or take it from its natural place (meaning don't pick up the marine life).
As pledged in medicine, "Do no further harm".