---
---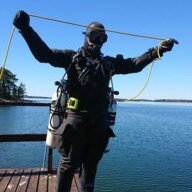 Gender:

Male

Home Page:

Location:
Subcooled
Assistant Instructor, Male, from Finland
Subcooled was last seen:

Jan 22, 2020 at 8:47 PM
Loading...

Loading...

About

Gender:

Male

Home Page:

Location:

Gender:

Male

Certification Agencies:

CMAS, PSAI, IANTD, TDI, SUKELTAJALIITTO/FINNISH RED CROSS, NAUI, DAN, PADI

Dive History:

I have done 300+ dives in drysuit and 250+ of those in side mount configuration: in open water, under ice, in flooded mines, through narrow sumps, in zero visibilty, quite deep (normoxic trimix). I have 150+ overhead dives done, although mostly in mines or under ice. I have done 28 sump dives (a day counts as one) and 27 search and recovery dives. My specialty skill is diving in extremely bad visibility in confined overhead environments.

Some facts:
Longest dive: 2h at -3m
Shortest dive: 50 demanding seconds (a less successful ice dive)
Longest successful free dive: 57m, no fins
Shortest unsuccessful free dive: about 65m, no fins, blackout, with safety diver
Coldest dive: -1C water or -20C surface
Hottest dive: pH 2,9
Usual dive: +4C

Certification History:

2010: Learned to dive (with drysuit) CMAS
2011: Learned ice diving CMAS
2012: Introductory cave diver (sidemount) PSAI
------- Advanced recreational trimix (sidemount) IANTD
------- Trimix gas blender IANTD
2013: Sump diving course (sidemount) SSF (a caving club, not a dive cert agency)
------- Assistant instructor NAUI
2014: Full cave (sidemount, no equipment removal) PSAI
------- Trimix (sidemount, normoxic) TDI (but I actually read Deco for Divers)
------- Voluntary rescue service diver (recovery diver) Finnish divers association / Red Cross
2019: All my basic and oxygen first aid certificates renewed. I try to do this every decade!

Certification Level:

Cave diver / Ice Diver / Normoxic trimix

# of Logged Dives:

200 - 499

Dive Classification:

Technical Diver

Years Certified:

Six - Ten Years

Dive Equipment:

Drysuit. Belt harness (sidemount/sump configuration). Various cylinders. Sump diver helmet. Reel or crowbar or saw depending on task.

During my third freedive deep inside Swildon's Hole in 2010 I suddenly realized that I really want a S.C.U.B.A.

Confined zero visibility sumps have been my goal and motivation since the beginning.

Later I found search and recovery diving and underwater inspection to be rewarding forms of diving, too. Why swim when you can do some real work?

These have much in common: the visibility is **** if it exists, there are hidden dangers, equipment cost is low, you never know what you will find, and there are no crowds.

Interact

Signature

Your breathing gas will last a lifetime

Loading...

Loading...