---
---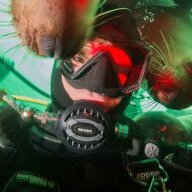 wetb4igetinthewater
Instructor, Scuba, Male, from Seattle
Loading...

Loading...

About

Gender:

Male

Location:

Gender:

Male

eBay User Name:

kkoeman

Certification Agencies:

SDI, PADI, SSI, TDI, NAUI, GUE

Dive History:

Diving mostly in the Puget Sound. A little in Yucatan, Australia (Sydney & Southwest Rocks), Florida caverns, Monterey, BC, Greek islands, Maui, Oahu

Certification History:

SSI Assistant Instructor Trainer
SDI Open Water Scuba Diver Instructor
PADI IDC Staff Instructor
TDI Advanced Nitrox & Deco Procedures
GUE Fundamentals Recreational Pass

Certification Level:

Assistant Instructor Trainer (SSI), OW Instructor (SDI), Advanced Nitrox/Deco Procedures (TDI)

# of Logged Dives:

200 - 499

Dive Classification:

Instructor / Assistant Instructor / Dive Master / Dive Con

Years Certified:

Four Years

Dive Equipment:

Apollo AV-2 scooter
DUI CLX450 dry suit
Northern Diver Drysuit
2 Deep 6 regulators
3 ScubaPro MK25/S600 regulators
1 Atomic M1 regulator
1 IST regulator
4 100 cu ft. Blue Steel tanks
1 40 cu ft deco bottle
1 30 cu ft deco/pony bottle
1 set doubles with HP 100's
XDeep Stealth 2.0 Tec
Xdeep Zeos BP/W, 40 & 50 lb wings

Signature

Kosta Koeman

SDI Open Water Scuba Diver Instructor

DDI Open Water Scuba Diver Instructor

Thavmas Scuba

NOTE: The expressed opinions made by me are mine alone and do not represent viewpoints by any training agencies, past and present, whose programs I teach. If it happens that my expressed viewpoints match that of any agencies, it merely demonstrates their wisdom and good judgement.

Loading...

Loading...