On the surface, the Sony RX100 VII looks almost identical to the previous Sony RX100 VI camera. Under the hood, however, it packs a new upgraded sensor and an improved autofocus system. The new autofocus system, in particular, is completely game changing for compact cameras. Read on to see the details on the latest updates and how the Sony RX100 VII performs underwater.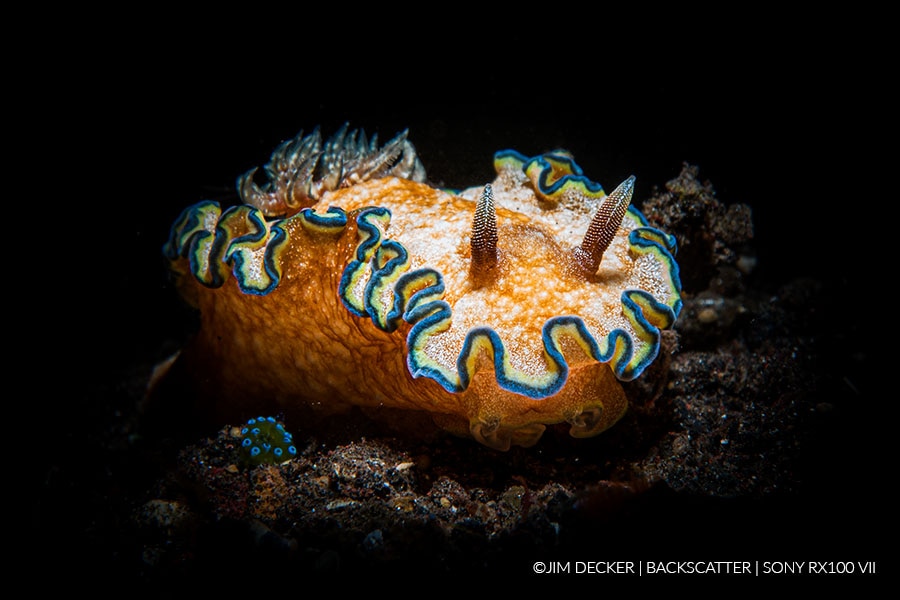 The Sony RX100 VII works really well for medium-sized macro subjects like this nudibranch.
Sony RX100 VII | 1/2000 | ISO 100 | ƒ11
Autofocus Tracking That Will Blow Your Mind
The biggest change to come with the Sony RX100 VII is the new autofocus system. Sony has taken the autofocus tracking from their top-of-the-line mirrorless cameras and implemented it in the Sony RX100 VII. Anyone who has ever used those focus systems can attest that it is a game changer. Simply point the focus squarely on what you want in the frame to be in focus, half-press the shutter, then the camera will track that object as it moves through the frame. The level of performance and accuracy looks to be the same as you get in the top-end mirrorless Sony a7R IV. This is great for close focus wide angle shots where the depth of field tends to be thin or tracking a fish for a portrait-style shot.
The focus tracking is so good, it's the only autofocus setting we would use on this camera for land or underwater. This is by far the best autofocus system ever put into place for a compact camera.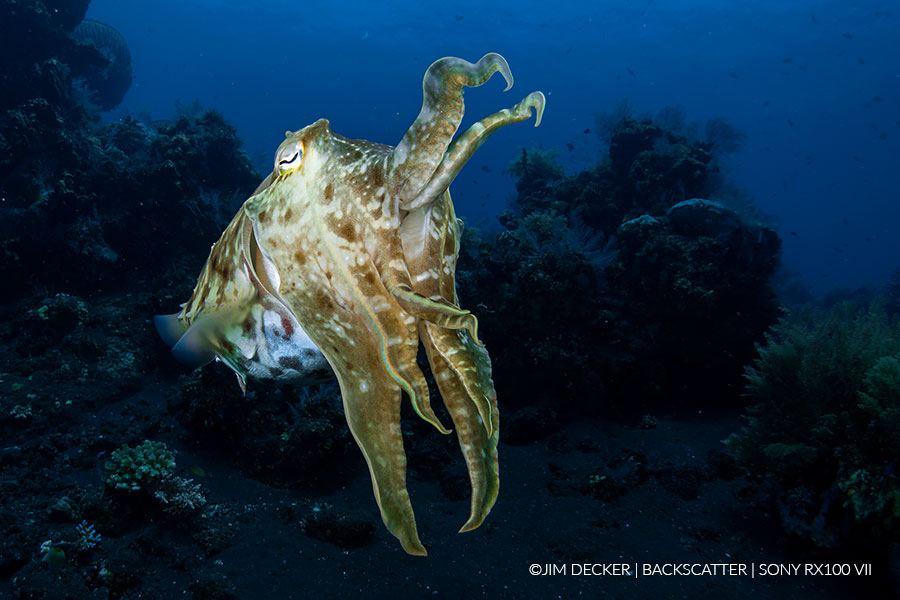 The focus tracking of the Sony RX100 VII had no problem tracking this cuttlefish as it moved, even at really close distances. We were able to keep tracking until it was in the perfect position, then take the shot. Using this method will consistently produce shots with perfect focus, making soft, out-of-focus images a thing of the past.
Sony RX100 VII | 1/125 | ISO 100 | ƒ8