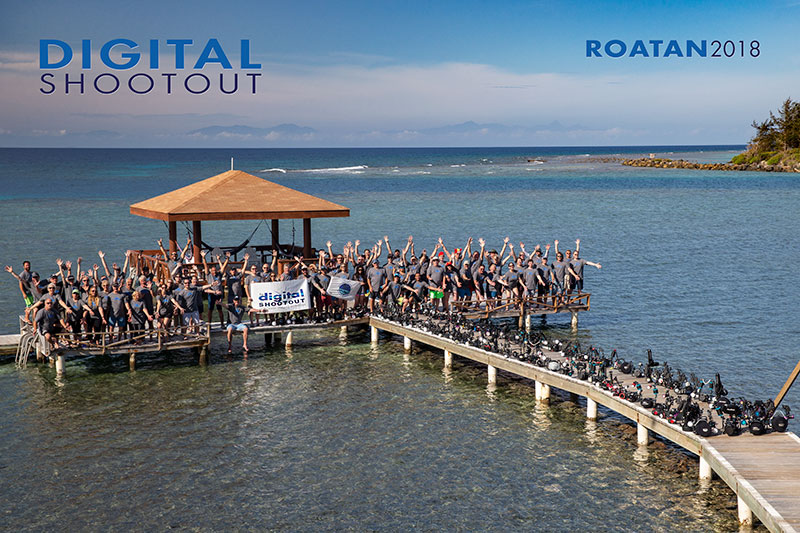 Coverage of the 2018 Digital Shootout Is Now Live at www.thedigitalshootout.com
Held every year in June and sponsored by Backscatter Underwater Video and Photo, full coverage of the world's largest and longest running underwater photography and videography learning event, the Digital Shootout is now live.
This year's event was hosted by Coco View Resort (www.cocoviewresort.com) in Roatan. With excellent diving conditions, a host of new faces and an expanded list of seminars and classes, this year's Digital Shootout was one of the best in the event's 18-year history. Staffed by some of the industry's top underwater imaging professionals, the Digital Shootout offers shooters of all levels a chance to learn about technique, post-processing, and equipment in a hands-on environment as well as dive and meet with others who share the same passion. With the largest and most diverse demo gear fleet at an underwater imaging event, the Digital Shootout also gives guests the opportunity to try out new gear.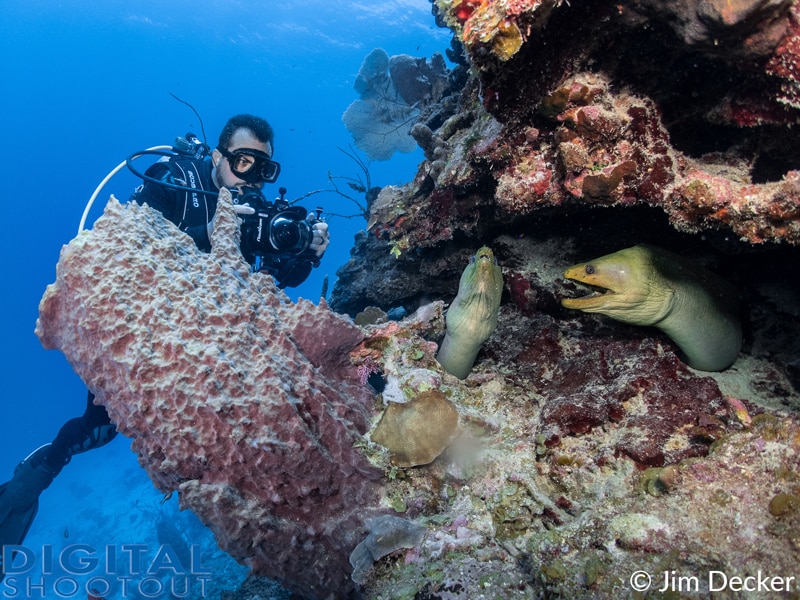 Backscatter Media Producer Robin Dodd gets up close with a pair of green moray eels, which were encountered on most dives during the 2018 Digital Shootout - Shot by Backscatter CEO Jim Decker
Shootout Life—See What It's Like to be in the Middle of it All
If you ever wanted to know what it's like to attend a Digital Shootout, check out the Shootout Life section of the site. "I think having a group of people all with same mindset and focus leads to a lot of great camaraderie that you don't get on a run-of-the-mill scuba trip. Everyone has the same goals--to get great images," said Backscatter CEO, Jim Decker. "There were many a late night at the bar with people talking f stops, lenses, and how they just got or just missed the shot. At the end of the event, the final awards presentation was shown on a 12-foot wide screen in the ocean for a unique experience, followed by an awesome after party. It was a great group of people and certainly the highlight of the year for me."
Digital Shootout staff member Joel Penner shot an awesome Day in the Life video to give a non-attendee a taste of what it's like to be at the Digital Shootout at www.thedigitalshootout.com/roatan-2018/shootout-life/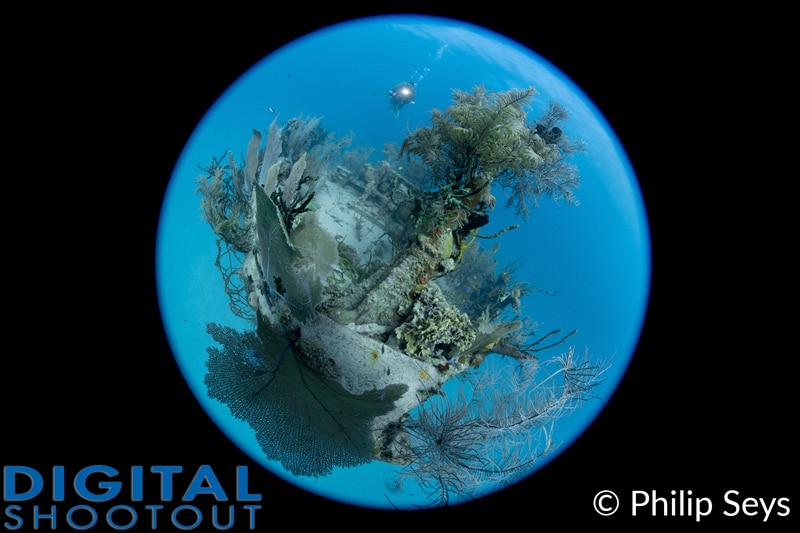 1st Place - Wide Angle Traditional - Philip Seys

Learning—The Core Mission of the Digital Shootout
The learning aspect is the main draw to the event and the primary focus. This year's event included seminars and classes on the fundamentals of underwater photography, organizing and editing images in Lightroom and Photoshop, creative lighting, split shots, advanced video, editing video in Adobe Premier, visual storytelling and more. Among the teaching staff were Backscatter founder Berkley White, Backscatter CEO Jim Decker, Adobe Certified Expert expert Erin Quigley, Brazilian Emmy award-winning filmmaker Cristian Dimitrius and pro videographer Steffan Schulz. "It was great to see the participants improve throughout the week," said Backscatter CEO Jim Decker. "I'm really proud of the progress everyone made, and it shows in the contest results."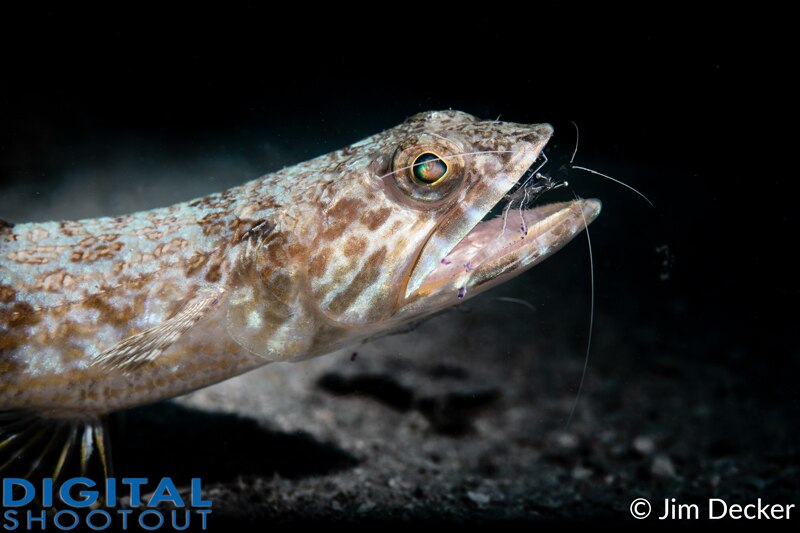 Lizard Fish and Cleaner Shrimp - Shot with snoot by Backscatter CEO Jim Decker

Demo Gear and Gear Tests
Every year one of the most popular parts of the shootout is the demo gear. "We had a great lineup of gear this year from Nauticam, Olympus, Light & Motion and Pegasus Thrusters," said Backscatter Media Producer Robin Dodd. "If you ever wanted to try anything from a compact, mirrorless, SLR, video lights, fluro lights, and even underwater scooters, it was here and available. There's so much demo gear that people were able to try out gear multiple times throughout the event. There's no other place you can try out so much diverse gear in one spot than at the Digital Shootout."
If you ever wanted to see what a million dollars plus of underwater imaging gear looks like take a look at the group photo. With so much underwater imaging gear in one place at the same time, the Backscatter and demo gear staff engage in a lot of testing and familiarizing ourselves with the newest and hottest items out in the wild. "The gear test section of the website always proves to be one of the most popular sections of the shootout site," said Backscatter Resident Photographer Dylan Silver. "Everyone wants to see images from the latest gear and see how it performed at the event." Check out all the gear tested at www.thedigitalshootout.com/roatan-2018/gear-tests/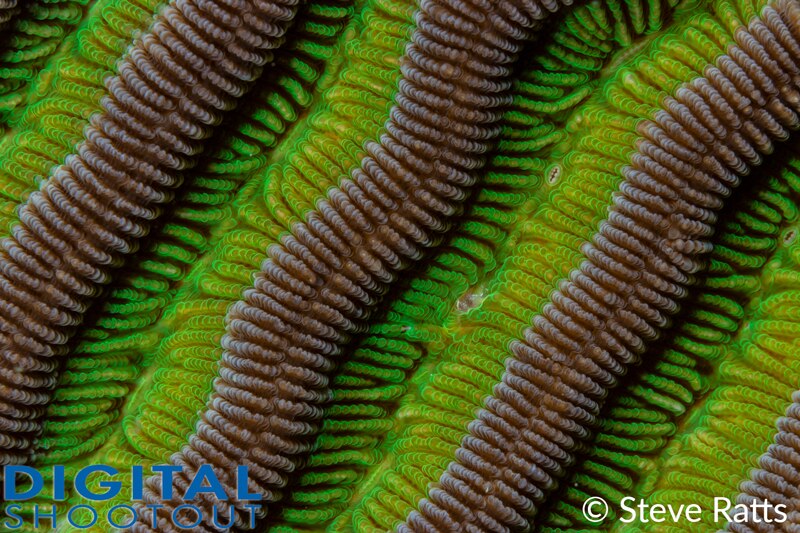 2nd Place - Macro Traditional - Steve Ratts

Contest Results
Contest? What contest? While there is an imaging contest at the end of the week, this is primarily a learning event, not a competition. While there might be some serious people putting in a lot of work, the atmosphere is friendly and supportive, with many past winners and advanced shooters giving advice to others. We wouldn't want to have it any other way. This year's highest honor, the Jim Watt award, was presented to 17-year-old Alex Seys, the youngest participant to ever win best-in-show, for his incredible macro video compilation. "A big congratulations to Alex for being our youngest best of show winner ever, and with a video, which is also a first," said Backscatter CEO Jim Decker." Alex has been coming to the shootout for years and has been working really hard at improving his skills and it really shows." Previously the award has never been given to a videographer. Check out Alex's video and all the winners at www.thedigitalshootout.com/roatan-2018/contest-results/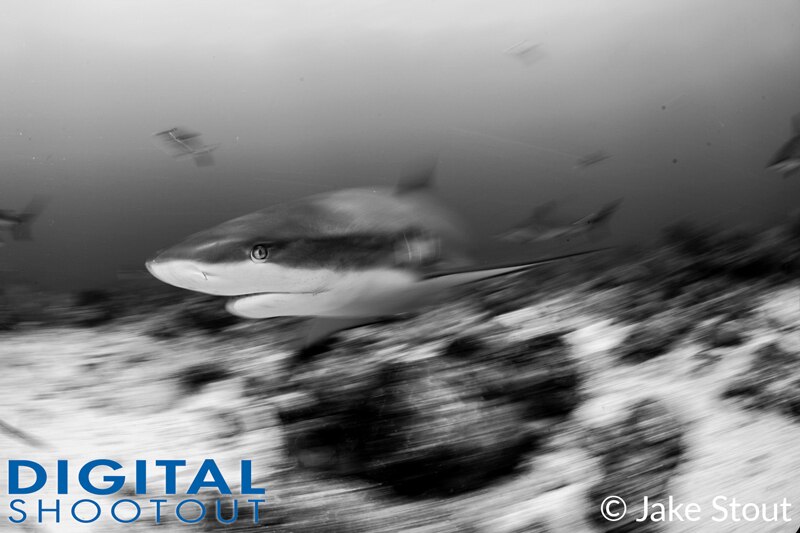 1st Place - Shark Category - Jake Stout

Rolex Our World Underwater and Boston Sea Rovers Scholarship Winners Attend the Digital Shootout
Yann Herrera, the Our World Underwater North American Rolex Scholar, and Jake Stout, intern and scholarship winner for Boston Sea Rovers were sponsored by Backscatter with scholarships to attend the event. For both of them, it was their first time shooting underwater. "We feel honored to have Yann and Jake attend the Digital Shootout on scholarship this year," said Jim Decker, CEO of Backscatter. "They did very well especially considering this was both their first time shooting underwater! We know that time and money can be a difficult barrier for young people to be able to get into underwater imaging, and we want to encourage the next generation of underwater image makers and ocean advocates are able to get out there and shoot." You can check out Yann and Jake's progress at the shootout in the Shootout Life section of the website at www.thedigitalshootout.com/roatan-2018/shootout-life/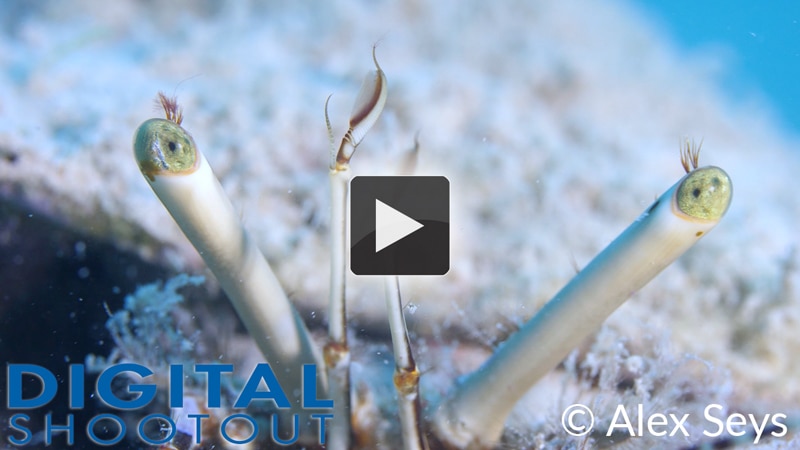 Jim Watt Award & 1st Place Video - "Focus" by Alex Seys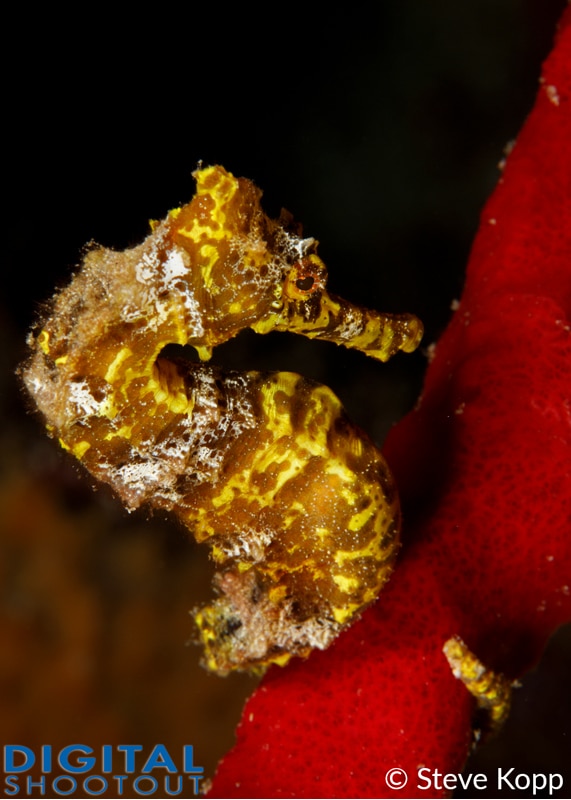 2nd Place - Macro Unrestricted - Steve Kopp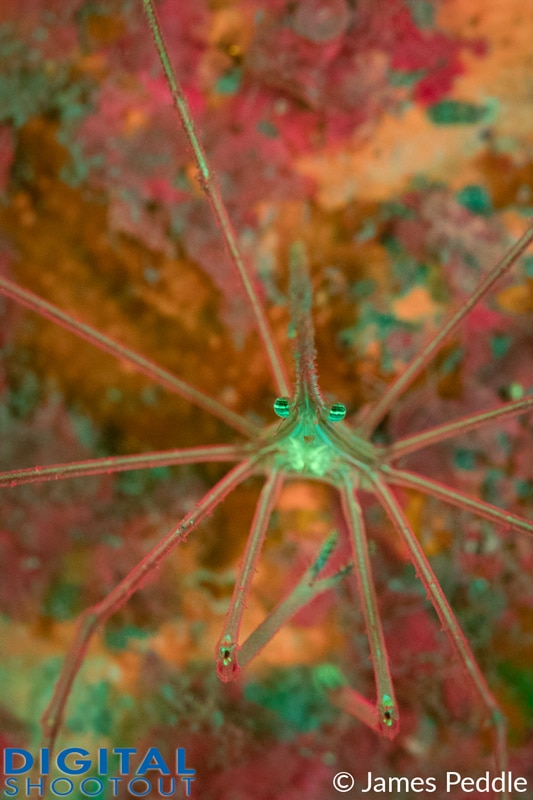 1st Place - Nightsea - James Peddle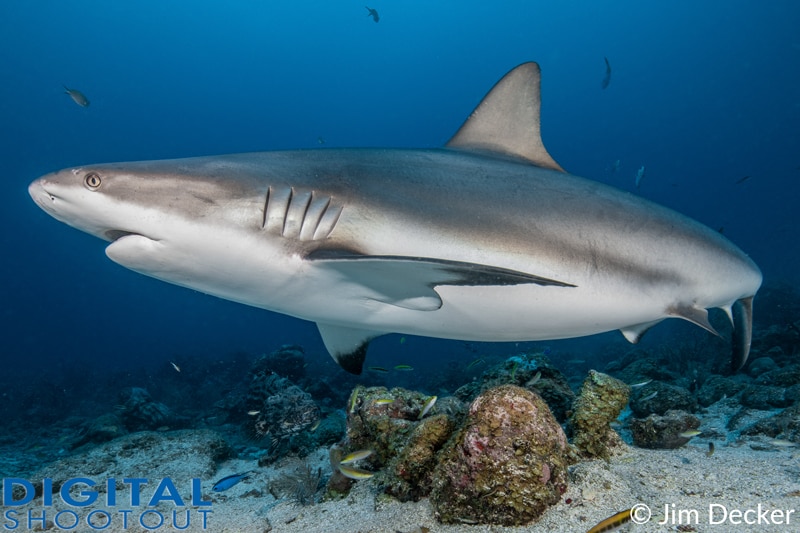 All Digital Shootout 2018 guests were able to do at least one shark dive, with one category of the contest dedicated entirely to shark photos. Caribbean Reef Shark - Shot by Backscatter CEO Jim Decker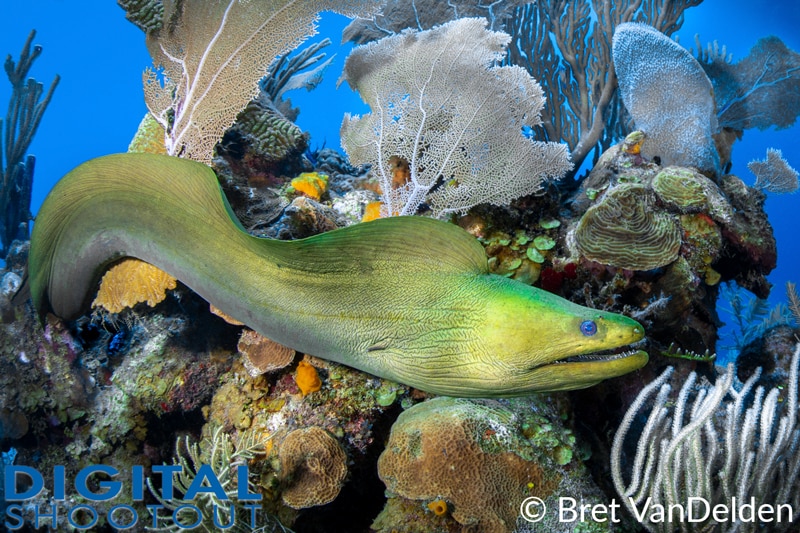 2nd Place - Wide Unrestricted - Bret VanDelden. Free-swimming green moray eel, a common sight on the reefs and walls of Roatan, Honduras.