Hi there! My name is Tiago Peixoto and you can find me shooting in Little Cayman as the Backscatter Photo Pro for the Reef Divers Photo Center. Little Cayman is truly a fantastic place for underwater photographers for so many reasons. To name a few: clear blue water, the virtual absence of currents, friendly fauna, and some World-Class dive sites only minutes away. On top of that, you will find a top-notch dive operation in Reef Divers, with highly skilled staff, dedicated to helping you get the shots you always wanted. Now, with a dedicated Underwater Photography Center, it is easier than ever to shoot in Little Cayman.
Little Cayman's reef system hosts some very interesting and photographer-friendly characters. Among them are the Southern Stingrays. In this article, we will talk about how to approach them and how to capture some of Little Cayman's classic shots.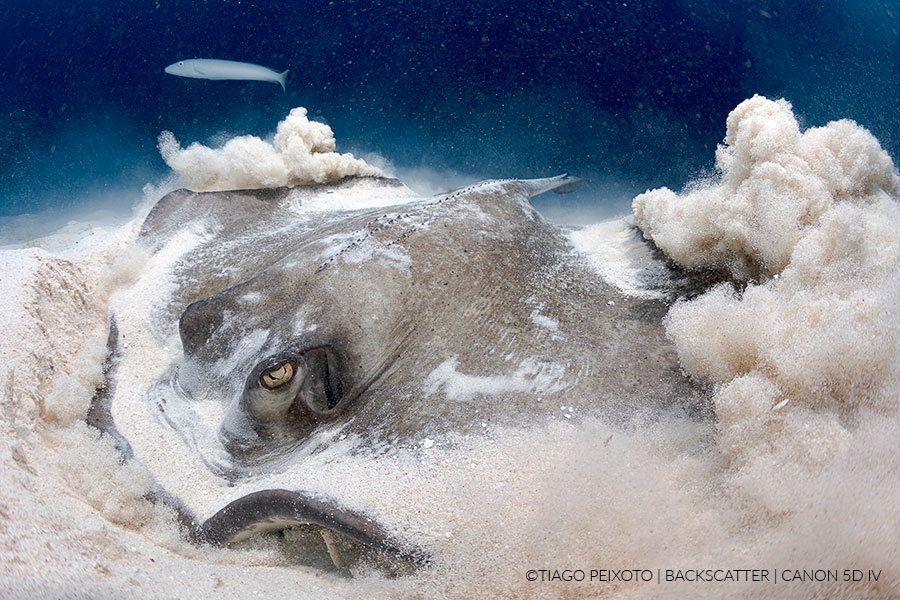 Southern Stingray feeding in the sand.
Canon 5D IV | Canon 8-15mm | 1/125 | ISO 100 | ƒ11
Introducing the Little Cayman Southern Stingrays and Where To Find Them
Southern Stingrays (Hypanus americanus) are a common sight along the sandy boulevards of dive sites like Meadows, Eagle-Ray Roundup, Jackson's Wall & Reef, Cumber's Caves, Bus Stop, Sarah's Set, Ann's Attic, and Mixing Bowl. You can find these mellow elasmobranchs cruising along this stretch in search of their prey that's usually buried up to 3 inches in the sand.
There are several types of photo opportunities available with our stingrays. You can approach them while they rest, covered by a layer of sand, as they feed or - my personal favorite - as they face the camera and turn, creating a very interesting composition with their tail whipping behind them. However, there is one type of shot that doesn't work as well as these do: is trying to capture them while they cruise around. They will not allow you to get close enough for proper lighting and a planned composition - it's pretty much like trying to shoot a moving target. I would advise saving your efforts for a more planned and meticulous shot rather than trying your luck as they skate around.
Another added interest in capturing stingray images pertains to their entourage. They are commonly seen accompanied by Bar Jacks, Permits, or other fish, which hope to get an easy meal out of the little creatures that get flung up in the water column as the stingray feeds. Catch them in the right position and you will have an added subject to make your shot even more dynamic and full of action.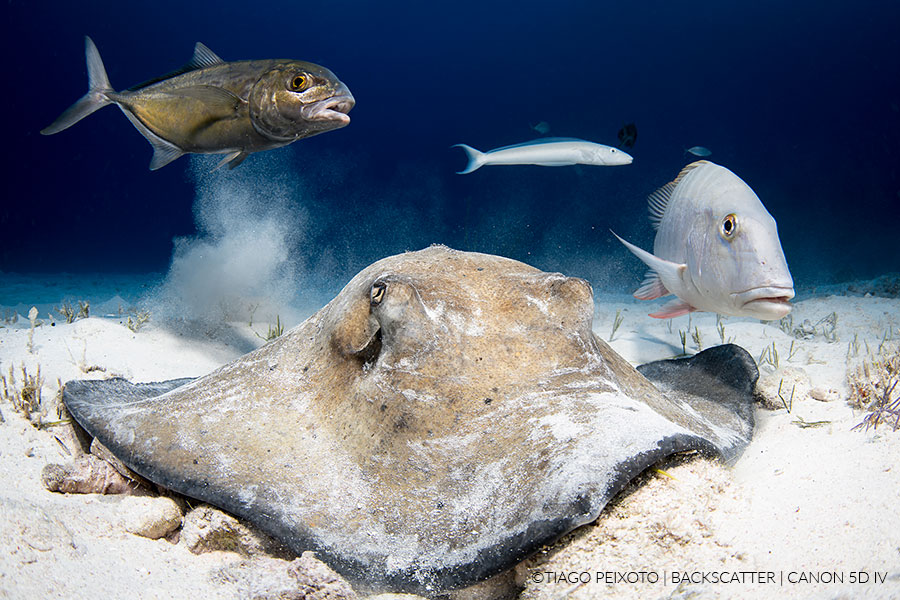 Capturing a stingray with its entourage of other critters is a great way to add more elements and interest to your image.
Canon 5D IV | Canon 8-15mm | 1/200 | ISO 100 | ƒ11